PURSUIT OF HOPE
Pursuit of Hope is a feature-length documentary that tells the story of the Haitian amputee football team as they seek a spot in the 2014 World Cup of Amputee Football.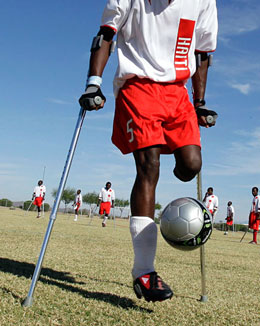 AMPUTEE SOCCER
Operation Go Quickly believes that an amputee soccer program can drastically change the perception of people with disabilities.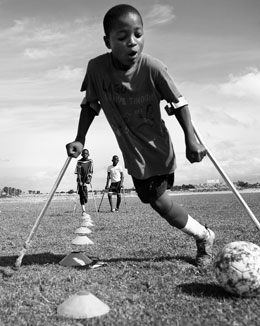 Haiti National Amputee Soccer Team Goodwill Tour
The Haiti National Amputee Soccer Team is traveling across America on a Goodwill Tour, sharing their story of hope through athletic performances, artwork, and stories of triumph through tragic circumstances.
One of the purposes of the Goodwill Tour is to spread the word about amputee soccer, which is considered the world's greatest one-legged game. These efforts will generate more awareness of the sport among American amputees and ultimately strengthen the USA national team.
The team will visit VA hospitals, rehabilitation centers, schools and churches. Many, including our wounded warriors, have seen that that disability is not inability, and as a result some have turned from the brink of suicide to renewed hope.
The Goodwill Tour will inspire soccer lovers from all walks of life to face their challenges with renewed hope and courage.
CAN YOU HELP US WITH A CASH DONATION TODAY?
Your donation enables Operation Go Quickly to provide help and opportunity to the most disadvantage people on Earth.
Donate Now