Haiti's national amputee soccer team participated in the Lonestar Invitational Amputee Soccer tournament in Houston this summer
with the UK and USA.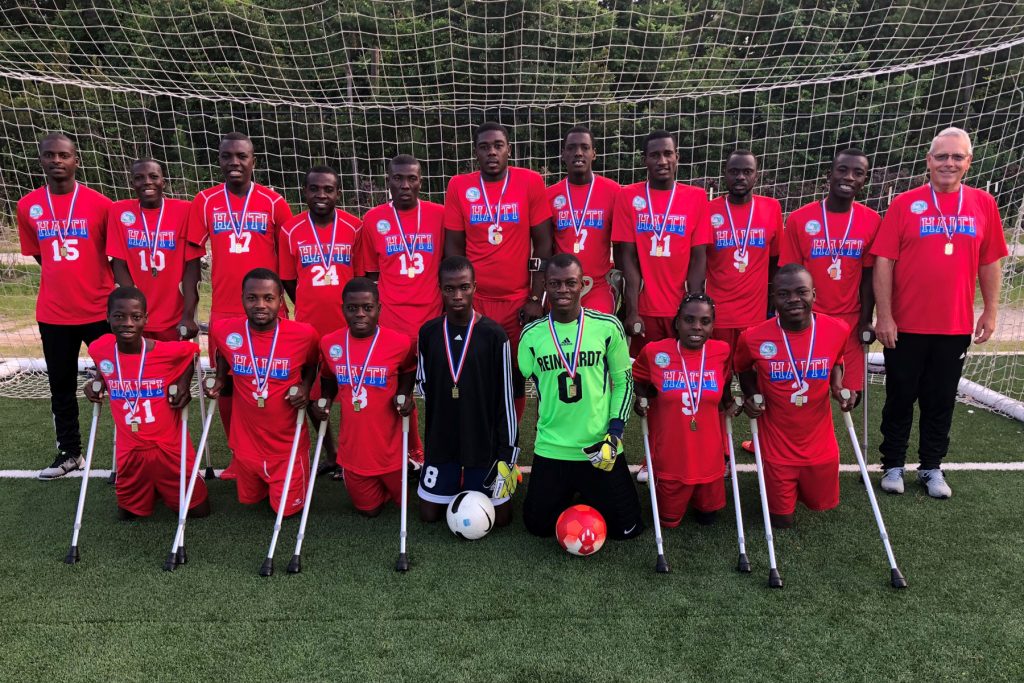 The Haiti team placed second following the UK. Before returning to Haiti, players able to wear leg prostheses were fitted by Operation Go Quickly prosthotist Tim Goldberg. However Stanley Gustave (#21 bottom left) and Carnot Dorvil (#10 top left) could not be fitted due to excessive bone growth on the end of their amputated legs (stumps). A friend of Operation Go Quickly provided a contact for Dr. Sorrells at Scottish Rite Hospital in Dallas. As a fourteen year old, Stanley qualified for a children's orthopedic surgery.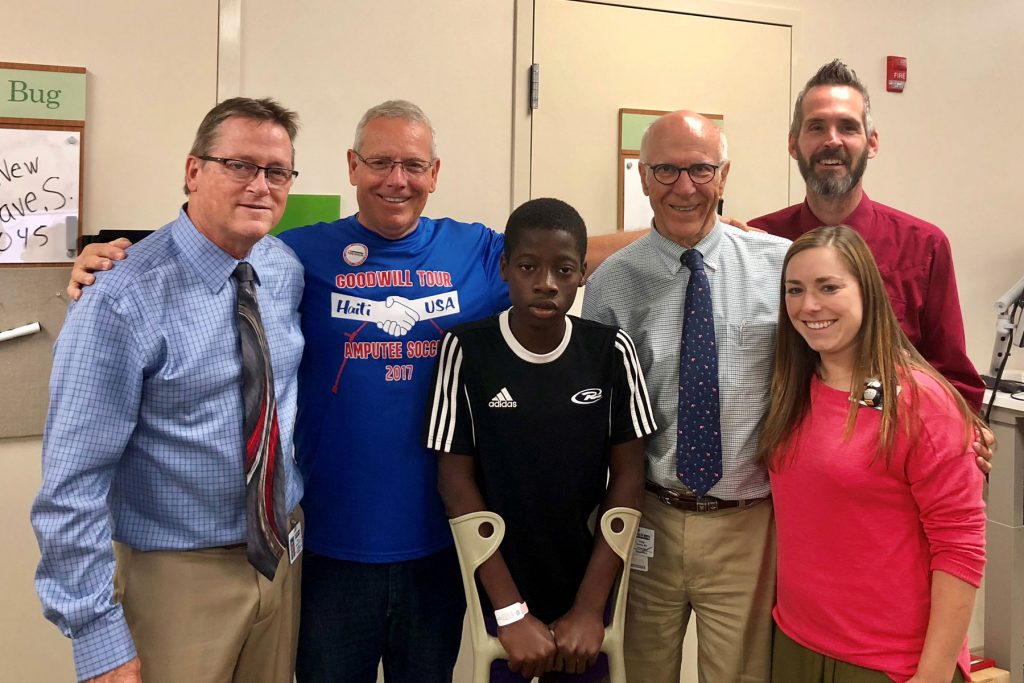 Following examinations and x-rays by the Scottish Rite team, renowned orthopedic surgeon Dr. John Herring (3rd from right) agreed to do a revision surgery for Stanley's stump so he could be fitted with a prosthesis.
Dr. Sorrells checked Stanley in for his corrective surgery on Tuesday. Following the hour long procedure, Dr. Herring declared it a successful surgery and stated that Stanley should never have that medial (MEDICAL) condition again.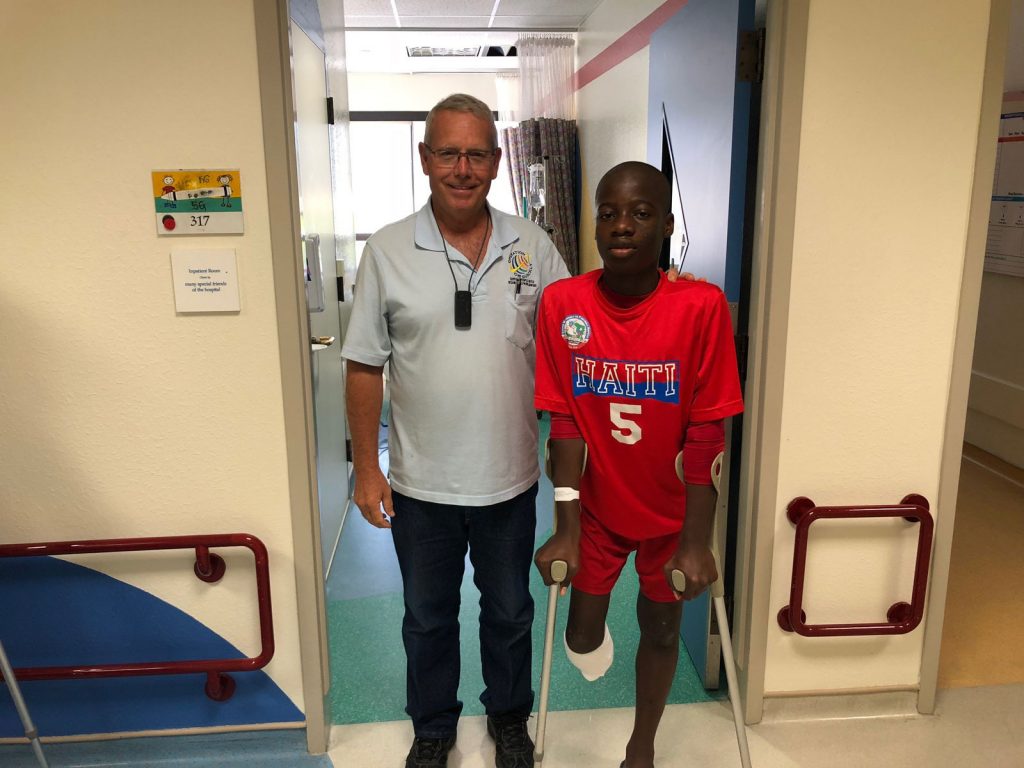 Following an overnight precautionary stay in the Scottish Rite Children's Hospital, Stanley was discharged on Thursday. He experienced very little pain and has started leg exercises to receive his prosthesis.
Operation Go Quickly would like to sincerely thank Dr. John Herring and the wonderful staff at Scottish Rite Children's Hospital . (https://scottishritehospital.org/) for their incredible kindness in restoring Stanley's mobility.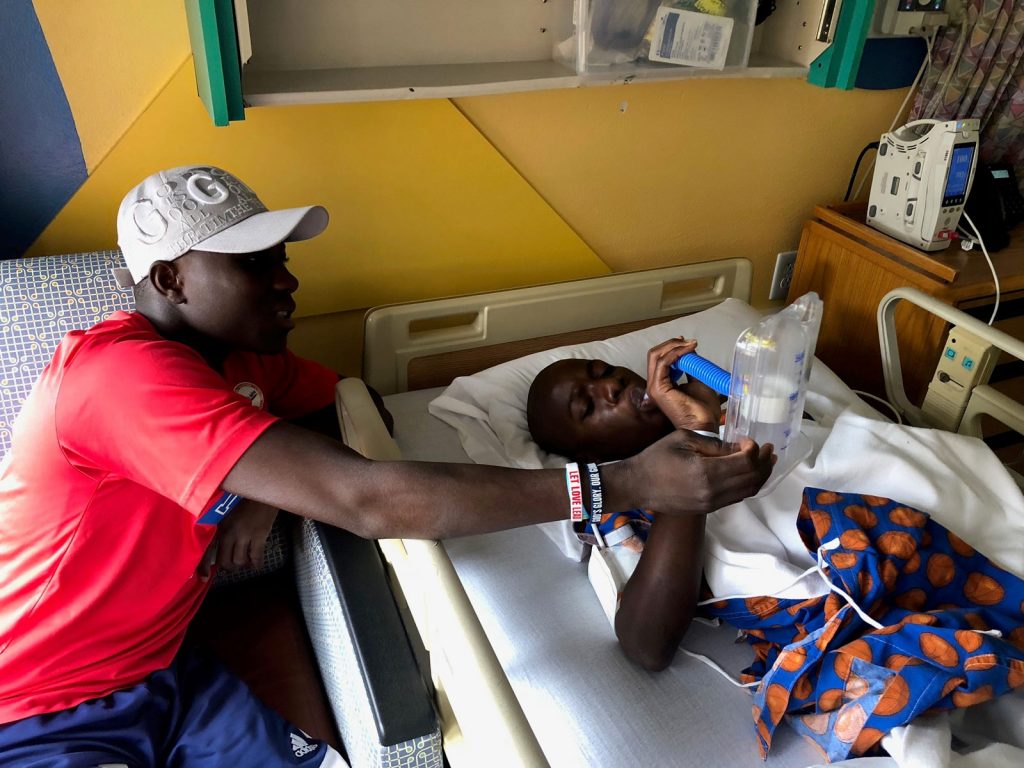 Stanley's teammate twenty two year old Carnot Dorvil assisted him with his breathing treatments while in the hospital. Carnot is still waiting for his revision surgery. Fortunately several orthopedic surgeons have volunteered their services. We are just waiting for a surgery center to donate their facility.
Thanks to your support two wonderful amputees will soon return to Haiti with significant improvement in their mobility. Donations can be made online at: www.goquickly.org or by mailing a check to:
Operation Go Quickly
4736 Bryant Irvin Rd #702
Ft. Worth TX 76132